Welcome to our range of replacement pickups for Stratocaster. Here you will find both Vintage correct models featuring sounds by era of manufacture and some original creations we've been making for years. All are manufactured to the highest standard, one at a time, with the best available quality parts. We can install any of these pickups into one of our loaded pickguards.

'59
A vintage correct '59 pickup from our vintage range. Our go-to pickup for SRV. A versatile and dynamic set, able to cover a range of genres. No expense has been spared in locating the original ingredients for a genuine out-of-the-box '59 sound.

Ricardo Espinha takes our new '59 set for a spin.

Custom made Alnico 5 vintage staggered magnets. FormVar coil wire, Forbon fibre flatwork, Gavitt cloth pushback leads. Lightly wax potted to stop unwanted microphonics, but preserve character. This is the real deal, based on a genuine '59 set.

$299 a set

Neck 6.0K - Middle 6.0K RWRP - Bridge 6.3K
The Sweet '62 Set
An original design, these are an Alnico II set for sweet, funky tones and heaps of sustain. Magnets individually calibrated and aged for a sound that jumps straight out of the early 60s. A great choice for players looking to nail sounds from Knopfler and Chili fans alike. Specs - Neck 6K, Middle 6.3K, Over-wound Bridge 6.8K.
$259 a set
(Prices in AUD)
THE FAT TONEY SET
The Fat Toney set are an original creation we did in conjunction with Adelaide guitarist, Stefan Hauk. A complete Alnico II set for wide open, smoky tones that are never harsh or shrill at any volume. This set sound big and musical, incorporating a steel baseplate on the bridge pickup for complex, mid rich, fat tones. Recommended for fans of Mayer, SRV and Blackmore.
Specs - Neck 6.35K, Middle 6.35K, Bridge ~ 9.5K - $259 a set (Prices in AUD)

Purple Voodoo

We analyzed mid 60's examples that we repaired or rewound and came up with this recipe. Alnico 5, reverse stagger, Plain Enamel coil wire, Gavitt cloth pushback wire. Bobbins made in-house to our custom specs.
Hear our friend Brett Kingman giving them a run-through here on YouTube. You can also view our friend Franco giving them another demo here.

Specs - Neck 5.8K, Middle 6.1K, Bridge ~ 7.2K

Now available - $329 a set
v12 set

Our take on Mr. Gilmour's classic Alnico V set in his original black guitar. The Neck and middle pickups deliver nuance and shimmer, just like on the albums. They are based on the original '69/70 specs and use Plain Enamel wire. The bridge is based on the original unit made in the 70s and uses different wire gauge for increased power and output. Refined over the past five years, these will give you that "off the record" tone.

Specs - Neck 5.8K, Middle 6.0K, Bridge ~ 12.7K - $299 a set (Prices in AUD)

JJ's
Vintage

Models


All of our Vintage models are period correct, accurate reproductions of the original pickups. We've been rewinding and repairing original examples for a while. The secrets those pickups have revealed are factored into our production process for authentic vintage tone. For these vintage examples, we use only Elektrisola coil wire in Formvar and Plain Enamel, and we have our magnets custom made for us. Each of our vintage spec pickups are lightly potted and fitted with genuine Gavitt cloth wire, screws, springs/tubing and covers of your choice. Available in RWRP middle as standard, we can change that on request.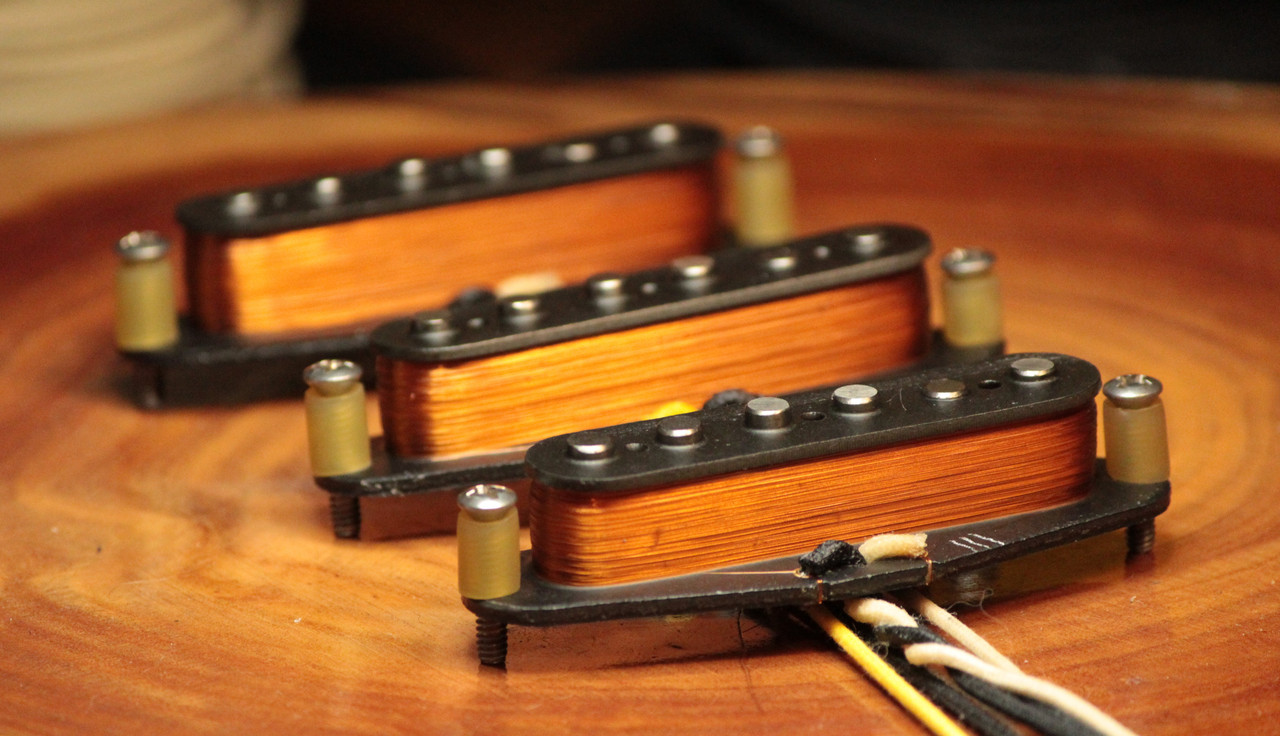 '54 set - Covering the 1954 period, our 1954 set has that "rings-like-a-bell" sound. Swampy neck pickup, wide open and clear middle, and a versatile bridge pickup that's never thin or shrill.

Specs: Elektrisola Formvar wire, Alnico III - DCR; N: 5.9K M: 5.9K B: 6.1K
$299 a set

Demo coming soon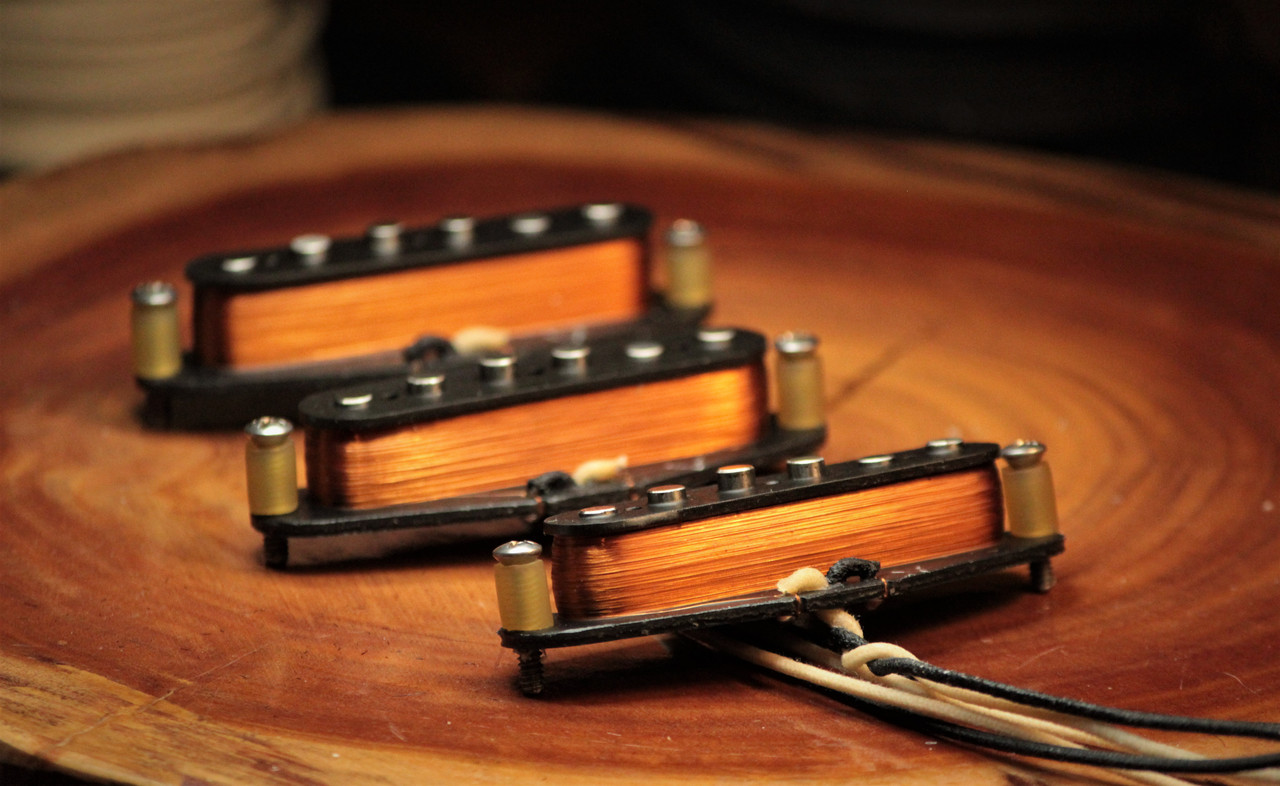 '59 set - The SRV sound. Covering the period around 59-61, the '59 set are a versatile set able to cover a range of material and genres. It's also our go-to SRV pickup, capturing the authentic 1959 sound, right out of the box. Bright and smooth.

Specs: Elektrisola Formvar, Alnico V - DCR; N: 6K M: 6K B: 6.2K
$299 a set

Legal Stuff "® Strat ® Stratocaster ® Tele ® Telecaster" are registered trademarks of Fender Musical Instruments Inc (FMIC). JJ's Guitar Pickups is in no way affiliated with Fender, nor are our products authorised by FMIC.